Part Number
LIZ 60 + Heavy Duty Core Expander
Description
Our core expander range is designed to lift and rotate rolls / reels from 60kg to a maximum of 200kg.
This handing concept enables the lifter operator to position the lifting device over individual reels or a pallet of reels, locate itself into the reel core expander and then lift up.
Simply by turning the handle the reel will re position itself into the horizontal position.
This position allows the operator easy access to load the packaging machine.
The core expander can be operated on any Hallins units from thew Newton 70 up to the Newton 250.
Features & Benefits
Operates on 70mm and 90mm cores creating roll flexibility
Turns 90 degrees offering both a pick up and loading position 

LIZ 
| | |
| --- | --- |
| Max Capacity | 80kg |
| Core Diameter | 70 or 76mm |
| Roll Length | 300-500mm |
| Rotation | 360 degrees |
| Material | Stainless Steel |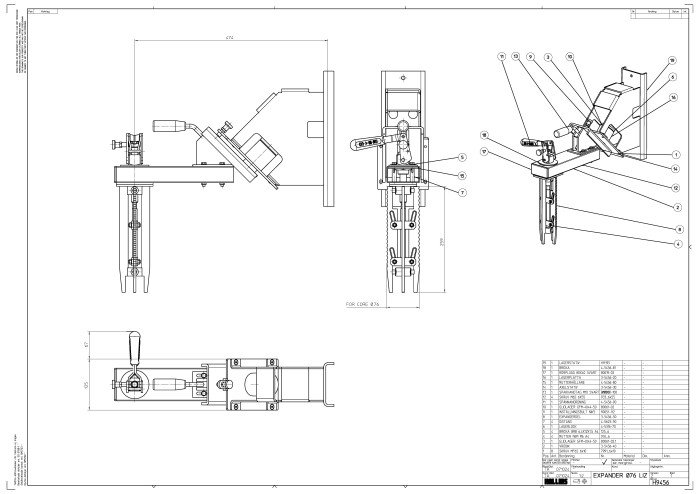 Download Drawings
Accessories & Customs
There are no accessories available for this model
Compare
Product
Part Number
Description
Image
View
Reel V Block
Vee Block

The Warequip range of vee block are a very simple cradle attachment.

The basic vee allows you to load the reel onto the basic platform by attaching the reel cradle, which can be positioned front to back or side to side.

There are often machines that are difficult to load and therefore a rotating vee block may be best to allow the reel to be presented on the best position.

Warequip vee blocks have the ability to support reels from 100kg to 60kg depending on the lifting device supporting them.

View Product
Reel Boom
Boom1

The Warequip reel boom is a basic single or double prong which is fitted to the lightweight lifting device.

The singe prong is designed to basically spear the reel and allow you to position the reel from offloading onto a machine.  The singe prong can be made to various lengths to suit different reels depending upon the reel length and weight.

Our double prong attachment can be used as a simple cradle support for rolls from 10kg to 60kg dependent upon the lifting device fitted supporting it.

View Product
Specialist Attachment
Specialist One

Warequip have established itself as the industry leader in lightweight lifter handling. Since about the early 90's Warequip have been creating solutions for lifting device products manipulation. We have created  a large number of attachment in both mild steel, polyethylene and stainless steel finishes.  Lifting attachments that can lift, turn, tip, spear, push, slide, grip and spin.  Attachment that makes product handling, efficient, safe and productive.

View Product