Part Number
Zallys JAY800
Description
Zallys ride on farming vehicle and vineyard pruning vehicle.
It is an electric man on board vehicle. In next to no time the JAY800 can be transformed into an electrical transporter, simply by removing the seat, handlebar and footboards, and applying the high handlebar steering and the platform. The JAY800 is not afraid of slopes with its loading capacity of 250kg and is free of harmful exhaust emission.
The JAY800 adds comfort along with productivity to the pruning or picking activities in farming.
Features & Benefits
| | |
| --- | --- |
| Features | Benefits |
| | Allows access to tight confined spaces that other equipment cannot access. Easy storage. |
| | Anyone who has had a quick training session can use the unit. No costly down time waiting for a licensed operator. |
| | Can be used in confined spaces with no threat of fumes. |
| | Allows users to easily manoeuvre the unit and load with no manual effort. |
| | No maintenance, all units are sealed in an oil bath with no chain. |
| | Provides security for others in a public area and prevents untrained staff using the unit. |
| | Can be used outdoors, you can even hose the unit down when cleaning. |
| | Easy to use controls suited to rough terrain. |
| | Turn the seat to the side, sit down and use your knee to creep forward. Leaves your hands free to attend to your crops. |
| Can be used on 25% incline | Move up to 100kgs plus user on inclines others can't handle. |
| Large variety of tops and trailers available | No matter what you need to move, we can custom design and manufacture for you. |
| | Tilt or turn the seat to the perfect position to drive or work in, operator comfort is assured. |
| | Ensures unit is safely held in place while stationary, even on ramps. |
| | After no activity for five minutes the unit shuts down to save the batteries. |
| | No lengthy down time, all parts are easily replaced to get you moving quicker. |
| | Handles uneven surfaces better than any other design. |
| | |
| --- | --- |
| Machine Length: | 1790mm |
| Machine Width: | 800mm |
| Electric Motor: | 24V |
| Range: | 8 Hours (approx) |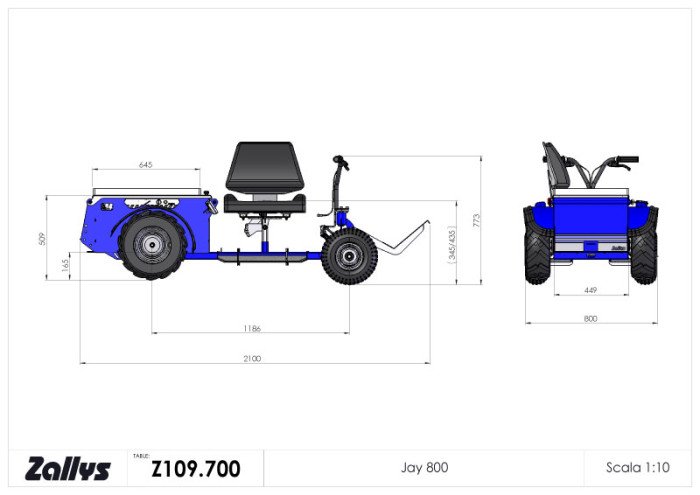 Download Drawings
Compare
Product
Part Number
Description
Image
View
Zallys Micro
Zallys Micro

It is the right solution for people who love freedom, for whom the need to move in parks, gardens, on beaches and in large spaces quickly and quietly is essential. With its strong steel frame and catchy Italian design, it is ideal for use on difficult grounds, offering the driver stability and a great control on up to 60 Km per charge on flat ground.

View Product
Powered Scooter
SCOOTERMATE

Powered stand up scooter.

The powered scooter is an environmentally friendly, easy to use, stand on powered transport device.

Used in large factories or work sites to get from A to B as well as being a great marketing tool to hand out information at events while staying of your feet.

View Product