Part Number
Zallys M4
Description
Compact, powerful pedestrian operated tug.
With capacity range upto 3000kg the M4 is very versatile and can be used in applications such as towing aeroplanes, moving trailers, trolleys, airport equipment and is idea for use on ramps indoors or out.
Furthermore it can even carry a 300kg load on top.
Features & Benefits
| | |
| --- | --- |
| Features | Benefits |
| | Allows access to tight confined spaces that other equipment cannot access. Easy storage. |
| | Anyone who has had a quick training session can use the unit. No costly down time waiting for a licensed operator. |
| | Can be used in confined spaces with no threat of fumes. |
| | Allows users to easily manoeuvre the unit and load with no manual effort. |
| | No maintenance, all units are sealed in an oil bath with no chain. |
| | Provides security for others in a public area and prevents untrained staff using the unit. |
| | Can be used outdoors, you can even hose the unit down when cleaning. |
| | The unit will stop and move away from the user if the button is activated, avoids damage to the unit and more importantly safety for the user. |
| | Add ballast to your existing unit to enable it to tow even more. |
| Large variety of hitches available | No matter what you need to move, we can custom design and manufacture the right hitch for you. |
| | Allows ergonomic position for all personnel. |
| | Ensures unit is safely held in place while stationary, even on ramps. |
| | After no activity for five minutes the unit shuts down to save the batteries. |
| | Allows easy use with either left or right hands. |
| | No lengthy down time, all parts are easily replaced to get you moving quicker. |
| | Handles uneven surfaces better than any other design. |
| | |
| --- | --- |
| Machine Length | 1326mm |
| Machine Width | 690mm |
| Body / Deck Height | 488mm |
| Handle Height | 1176mm (adjustable) |
| Machine Weight | 115kg |
| Voltage | 24v |
| Battery Capacity | 80Ah |
| Tyres | Rubber (Turf) |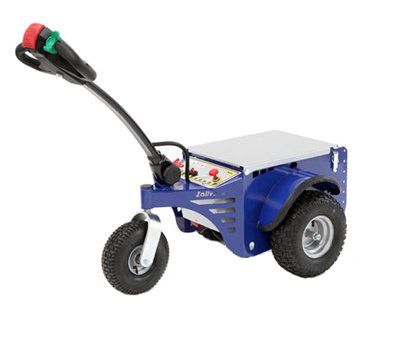 Download Drawings
Accessories & Customs
Part Number
Description
Image
T527700M4
M4 Ballast Kit Zinc Plated

Z162851M4
M4 Ballast (set of two plates)
12.5kg each zinc plated


ZA023800
Basket 550 x 650 x H160mm Grey




ZA199705
Pin Hitch 16mm pins

ZA199707
Tow ball hitch

ZA191700
Galvanised bin hitch tow suit either 2 x 120l or 240l bins

ZA191700
Trolley hitch with light suits 100 x 125 wheels

ZR350700
Grey solid tyres
Compare
Product
Part Number
Description
Image
View
Zallys M3
Zallys M3

Zallys pedestrian operated battery powered tug. Its compact design permits operation in narrow spaces thanks to the adjustable steering system. Small, very manoeuvrable, reliable and very powerful, it's perfect for indoor and outdoor use towing smaller loads.

View Product
Zallys M12
Zallys M12

Zallys 1000kg capacity pedestrian operated battery powered tug.

The Zallys M12 makes handling wheeled objects safe and easy. With a footprint of just 550mm its one of the most compact tugs in the world.

The Zallys M12 makes handling wheeled objects safe and easy.

View Product
Zallys M12R
Zallys M12 with Remote Operation

Zallys 1000kg capacity pedestrian operated battery powered tug with remote operation.

The Zallys M12 makes handling wheeled objects safe and easy. With a footprint of just 550mm its one of the most compact tugs in the world.

The Zallys M12 makes handling wheeled objects safe and easy.

View Product
Zallys M5
Zallys M5

Zallys 4000kg capacity pedestrian operated battery powered tug.

It has been designed with health and safety issues in mind, but reducing the manual effort necessary to move industrial loads. With its adjustable tiller head and modern safety system, it's ideal for towing and pushing.

Very powerful unit while remaining easy to handle. This top of the range tug handles large pushing and pulling applications with ease.

View Product
Zallys M9R
Zallys M9R

A compact and practical electric powered pedestrian operated vehicle. Suitable to work as a pusher and a tower in narrow spaces thanks to its reduced dimension. The tiller head is adjustable in height and a steering system that allow to rotate on itself. It is supplied with an emergency stop, led to verify the charging level and an external plug for a fast and easy connection to the charger.

The M9 features standard and customisable hitches and ballasts making this vehicle incredibly versatile for any kind of internal or external need on uneven ground situation as well. Incredibly useful for moving tourism airplanes, boats, caravans, airports and supermarkets trolleys or used as a mini transporter thanks to its capability of loading up to 300Kg. All Zallys vehicles are produced with high quality materials and are CE certified according to the latest European normative.

View Product